MCA Expo 2015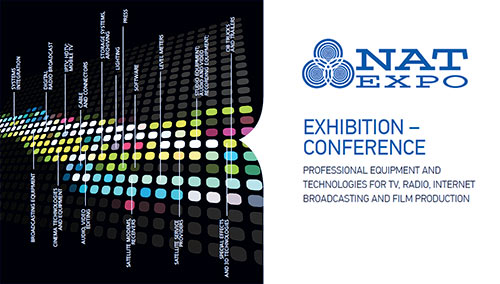 NOTE: Exhibitions "NATEXPO" and "MCA Expo" will be held together in one venue VDNH this year.  
November 18 – 20, 2015
Moscow, VDNH, pavilion № 75, hall А
Dear friends,
It is no secret that trends in the development of technologies and equipment for film production are moving towards TV and they intertwine, creating one complex structure of producing television films and series that all of us love watching so much. Following this trend, we have decided to unite on one platform two exhibitions "NATEXPO" and "MCA Expo" and to dedicate the upcoming November exhibition "MCA Expo" to the production of series.
"MCA Expo" is an exhibition and conference on equipment and technologies for film production. "NATEXPO" is an international exhibition of professional equipment and technologies for TV, radio and internet - broadcasting.
Thus, we are pleased to invite you to participate in this major project of 2015, which unites 2 important events:  "NATEXPO" and "MCA Expo" to be held in pavilion 75, hall A, VDNH on November 18 - 20, 2015.
These exhibitions are organized by JSC "ExpoNAT" and "National Association of TV and Radio Broadcasters" ("NAT"), which celebrates its 20th anniversary this year.
In addition to it, owing to the support of the Moscow Government the exhibitions get extensive coverage in the Moscow mass media and attract great attention of specialists of companies that play a key role, both in film and TV industries. They unite in one venue not only manufacturers of equipment, new technologies, software of digital cinema, but also acting agencies, production centers, workshops producing costumes, set designs, props, companies engaged in the protection of copyright and licensing among many others.
Product categories to be presented in the zone of the exhibition and conference"MCA Expo":
- Cameras;
- Lighting;
- Motioncontrol;
- Transportation for filming;
- Cranes;
-Rental of movie making, sound recording and lighting equipment;
- Post production services;
- 3D graphics and visual effects;
- All for the production of stereoscopic 3D content;
- Editing and sound recording studios;
- Acting agencies, costumes, set design and props, professional make-up;
- Music equipment;
- Equipment for DSRL filmmakers;
- Production centers;
- Companies engaged in copyright protection and licensing;
- Equipment for cinemas;
- Theatrical and stage equipment;
- Full package of movie/TV film production organizing services;
- Representativesofthemedia.
The exhibitions will feature seminars, master classes, workshops and presentations for beginners and experienced professionals. Companies can hold presentations and trainings for users of their products at their booths or on specially equipped sites designed for workshops of the exhibitions "NATEXPO" and "MCA Expo" called Workshop seminars. Exhibitors will have the opportunity not only to show their equipment and technologies for film and TV production, but also to see new products of other companies.
The partners of the exhibition and conference business program are the following: "McGuffin Film School", "Moscow Film School", "Scream School", "Mobile Training" training center and other film schools. Participants of the exhibitions will get a unique opportunity to attend free trainings organized directly by equipment manufacturers and developers. We will surprise you with our extensive and gripping program!
The preliminary hall map can be reviewed on the official website www.natexpo.ru: http://www.natexpo.ru/on-line/files/BA7F8E9F-4073-4695-9DD2-CAEC9BC2C4D8/natexpo2015.pdf.
We are looking forward to receiving your applications for participation in the exhibitions and business program and will be pleased to consider any of your interesting offers regarding the organization of our project "NATEXPO AND MCA Expo 2015"!
Welcome to the exhibition "NATEXPO AND MCA Expo"!
To participate please contact the project managers:
Natalia Khristyukova natali.khristyukova@mcaexpo.com
Alfiya Kuzyashova ka@mcaexpo.com
JSC "ExpoNAT"
Address: Office 49, 15, Neglinnaya str, Moscow, Russia, 127051
Tel. +7(495) 651-08-34
Fax: +7(495) 651-08-32
www.mcaexpo.com
Welcome to the exhibition "MCA Expo 2015"!

Where?
Аddress and the map of VDNH, Pavilion # 75, Hall № A
General builder  — LTD "PO Montazchnik"
When?
Official opening ceremony of the Exhibition takes place on November, 16th, 2016 at 12.00
| | |
| --- | --- |
| November 16 | 10:00 – 18:00 |
| November 17 | 10:00 – 18:00 |
| November 18 | 10:00 – 16:00 |
Move-in schedule:
November 13th, 14th, 15th, 2016 from  08:00 to 20:00

Move-out time schedule:
November 18th, 2016 from 16:00 to 20:00
November 19st, 2016 from 08:00 to 20:00

Official closing of the Exhibition is on November, 18th at 16:00.